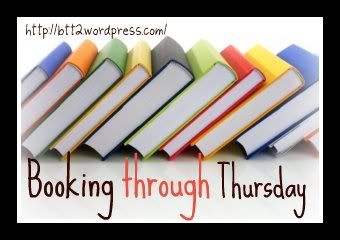 Booking through Thursday is a lovely meme hosted by
BBT2
. Every Thursday they pose a question for us to answer! Let's jump right into this weeks question!
Have you ever fallen in love with a fictional character? Who and what about them did you love?
Well, that is just a loaded question. Who haven't I loved?! I tend to fall in love with characters pretty easily. Some I love more than others but probably 7 out of 10 male leads in books I read, I fall in love with. Maybe 8 of 10 even. I don't even know where to start but I will give it a shot!
Ren from Tiger's Curse
Ren started out being a little unsure and even a little shy. I loved the way his character developed through out the series. By the last book that was published, he had turned confident, adamant, had a bit of an attitude and a biting sense of humor. I am a sucker for a biting sense of humor. Smart ass boys do something crazy to me that probably isn't healthy. Plus, he isn't your standard American boy next door which was intriguing to me and he speaks a different language! That's sexy.
Travis from Beautiful Disaster
Oh, Travis. You are a hot dysfunctional mess. I don't know how else to explain him. He is the boy that your mother would have a heart attack over and your daddy (if you are from the south like me) might shoot on the front porch and not feel badly about it in the least. He has a temper, he says horrible things when he is drinking, he doesn't think out his actions before he performs them...he yells, he curses, he's a sinner but he's also this amazing, passionate, intense, emotional man. I fell in love with Travis because he is the bad boy that all girls dream about but most girls know better than to fall in love with.
Beau from The Vincent Boys
Beau is a Southern Rock Bad Ass. Yes, that did need to be all capitalized because it is a title that isn't easy to earn. He had swagger and sexiness just oozed off of him. He's a country boy at heart, a bit of a drinker but with an emotional, tender side and a sense of honor to boot. He's got this vulnerability about him that is hard to resist.
Po from Graceling
"I know you don't want this, Katsa. But I can't help myself. The moment you came barreling into my life I was lost. I'm afraid to tell you what I wish for, for fear you'll... oh, I don't know, throw me into the fire. Or more likely, refuse me. Or worst of all, despise me," he said, his voice breaking and his eyes dropping from her face. His face dropping into his hands. "I love you," he said. "You're more dear to my heart than I ever knew anyone could be. And I've made you cry; and there I'll stop."
That is why I love Po. Po is amazing. Absolutely amazing. He is completely okay with Katsa being able to kick his ass, he encourages her to be as good as she can be. He accepts who she is and what she wants out of life and yet he pushes her to challenge herself constantly. He's attentive and yet doesn't lose himself in loving her which drives me nuts in some books. He is not ashamed to show his vulnerability or his feelings and he has a beautiful way of
speaking. He's always mischievous, a smart ass, and definitely bad ass in his own way.
T.J from On the Island
One of the main reasons I fell in love with T.J was because of the way he grew throughout the book. If you haven't read On the Island yet, I highly recommend it. It's different and the characters do have a rather intimidating age difference but because of the circumstances in the book, I barely even noticed the age thing. T.J goes from a teenager to a man in this book and the way he copes with the situation, matures and grows up to be an incredible, responsible, amazing person just blew me away. He was so real. He wasn't a super hero or this sexy bad ass (as much as I love them!) he was a person with feelings and concerns and insecurities and we get to see them all and how he overcomes and deals with everything life tosses at him. The epilogue in this book, centering around T.J. only clinched me being in love with him and was probably the best epilogue I have ever read.