Today was a rough day. Remember that cute little pup in my last post? She's currently in training to become a service animal. She's supposed to be well trained. She's gone to enough classes and seminars to be a freaking expert on being a model of good canine conduct. Well, this afternoon, she tried to jump through a window.
Don't worry, she is fine. However, my window is not. It is broken. So, I pack up Roxie, put her fancy back pack on and march her to Lowe's to figure out how much her little hissy fit (she was mad because one of the other dogs and myself were outside and she was not) was going to cost me. While we were checking out, out of no where, she breaks out with
WOOF WOOF WOOF
in her big girl bark at some random guy. Poor dude jumped like three feet in the air, she scared the jeepers out of him! Yeah, so not pleased with my little prodigy today. Oh, and Lowe's, after telling me it was no problem to replace my window, blah blah was out of glass. So, I have a garbage bag taped to my broken window. Very classy.
That being said, I desperately need to just sit and chill, participate in some fun memes and then retire to my bed with my kindle and a (hopefully) good book! So, without further ado, Booking through Thursday!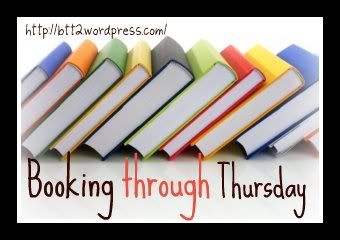 Booking through Thursday is a meme hosted over at
http://btt2.wordpress.com/
. Every Thursday they pose a question about (mostly) books and reading for us to ponder and answer!
This weeks question is....
If someone asked you for a book recommendation, what is the FIRST book you'd think to recommend (without extra thought)?
That is a VERY tough question! There are so many good books out there and I know at least five off of the top of my head that I would recommend. Of course, this imaginary person would have to enjoy the type of books I enjoy. Either way, the very first book that came to mind was...
When thirty-year-old English tacher Anna Emerson is offered a job tutoring T.J. Callahan at his family's summer rental in the Maldives, she accepts without hesitation; a working vacation on a tropical island trumps the library any day. T.J. Callahan has no desire to leave town, not that anyone asked him. He's almost seventeen and if having cancer wasn't bad enough, now he has to spend his first summer in remission with his family - and a stack of overdue assignments - instead of his friends.
Anna and T.J. are en route to join T.J.'s family in the Maldives when the pilot of their seaplane suffers a fatal heart attack and crash-lands in the Indian Ocean. Adrift in shark-infested waters, their life jackets keep them afloat until they make it to the shore of an uninhabited island. Now Anna and T.J. just want to survive and they must work together to obtain water, food, fire, and shelter. Their basic needs might be met but as the days turn to weeks, and then months, the castaways encounter plenty of other obstacles, including violent tropical storms, the many dangers lurking in the sea, and the possibility that T.J.'s cancer could return. As T.J. celebrates yet another birthday on the island, Anna begins to wonder if the biggest challenge of all might be living with a boy who is gradually becoming a man.
This book is just amazing. I wasn't planning on loving it, I actually just picked it up because I needed a contemporary book for a reading challenge. Then I started reading it and I could not put it down. The details are perfect, absolutely perfect. They aren't overwhelming to the point where it gets boring but just descriptive enough to really draw you into the story. You feel like you are
there
on the island with T.J and Anna. The way that T.J grows and matures is addicting to read about. The way Anna deals with the emotions of being stranded with this young man pulls at your heart. The epilogue is the most perfect wrapping up to any story I have ever read. The writing is smooth and easy to read and consistently engaging! I really can't recommend this book enough, the plot is amazing, the writing is outstanding and I am more than happy to recommend this book to anyone!
((Edited to add in that I mistakenly answered LAST weeks BTT. Whoops!))