Shelf Candy Saturday is a fun feature that is hosted by
Fivealarmbookreviews.com
. The purpose is to show off book covers that we think are exceptionally beautiful/intriguing or just interesting!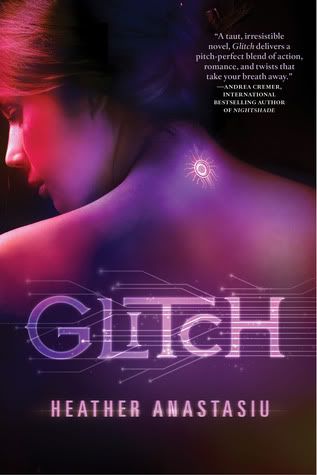 This week I picked
Glitch
by Heather Anastasiu. This book hasn't come out yet but I am hoping this is the final cover because I love it. Here's a little excerpt from the synopsis on Goodreads.com
In the Community, there is no more pain or war. Implanted computer chips have wiped humanity clean of destructive emotions, and thoughts are replaced by a feed from the Link network.
When Zoe starts to malfunction (or "glitch"), she suddenly begins having her own thoughts, feelings, and identity. Any anomalies must be immediately reported and repaired, but Zoe has a secret so dark it will mean certain deactivation if she is caught: her glitches have given her uncontrollable telekinetic powers.
I think part of the reason I love this cover so much is because it seems to fit the book so well. It looks high-tech and other worldly. I am normally not a big fan of purple but it just sets the tone perfectly on this cover. I even like the font and normally I don't enjoy crazy fonts. This is one of those covers that would make me pick up the book and read the back of it, give it a chance just because the cover attracted my eye. I love the tattoo/chip/whatever that is on her neck, it makes me curious as to what the book is about and why she has it and that is exactly what a book cover
should
do.
The only thing I would change is the big author recommendation on the front. Do those thing have an actual name? My mind is blanking right now. I understand that it is a tool to show that the book is good because another well known author endorses it and people who read that author might pick up the book because of the endorsement. (Endorsement?! Is that the word I was looking for?) Still, I think it could have been placed somewhere else because it detracts a tiny bit from the beauty of the cover. It wouldn't stop me from picking the book up but it wouldn't make me pick it up on its own either.
Glitch is on my TBR list and I am looking forward to reading it when it comes out in August!